Hello guys,
I read a lot in this forum about prostatitis / hard flaccid and pelvic floor symptoms (collectively referred to as CPPS).
I have realized again the days that despite many supplements / medicines (currently on cabergoline) it is unchanged, it is still exactly as it was two years ago when it all started:
Sometimes I still have a wrinkled, hanging scrotum with a shiny skin. I add a picture here so everyone knows what I mean. There is also a penile curvature and a thick vein on the top that was not there before.
Pelvic floor dysfunction, prostatitis, neuromuscular damage?
For me, there are only two theories, neuromuscular or DHT insensitivity (because my levels of DHT are even slightly elevated), because DHT is a major contributor to muscle relaxation. Anyhow, my prostate examinations all come back normal.
I had an interesting discussion with a guy here from this forum on Reddit, which I do not want to withhold from you:
"I think trazodone, much like finalseride, accutane, jelqing, SSRIs, ect created anxiety / nocebo which is more likely the ultimate source of the issue.
It just doesn't seem possible that a drug with limited reported side effects can fuck you up so long after."
"The founder of the PSSD forum (ghost)" literally posted on the hard flaccid forum recently saying he thinks PSSD was pelvic floor dysfunction all along.
I have 3 years and like each one on propecia help. If you were prescribed SSRIs at all you're already in the long tail of anxiety. "
"Believe me I thought pelvic But the head of the pelvis, which is the definitive text on the pelvic floor and written by the best experts there are (stanford guys, way better than the shitty Italian guy studying PFS) blew my mind. It is deeply troubled by central depression and anxiety.
I do not think Trazadone and Finasteride have literally did anything, I think they have destabilizing mental effects they do for many people (Finasteride has been associated with neurotic behavior when administered to and inhibit important anxiolytic neurosteroids) and in a certain population of men are predisposed these manifestations in chronic pelvic floor issues. It makes it super easy to treat like no doctors know about the floor, especially for men and there's a lot of scary shit online that makes it easy to freak out and think you're fucked, which greatly worsens the emotional issues that caused this in the first place.
The pelvic floor issues are not cones, so it's your bulbospongiosus and icshio get tense in the way your whole body does it (which cortisol DOES hormonally effect) and they are not under conscious control can just stay that way for a long time
Learning to relax again is important. I'm like a child of wired up but tired as a result."
And now googling this bulbospongiosus muscle …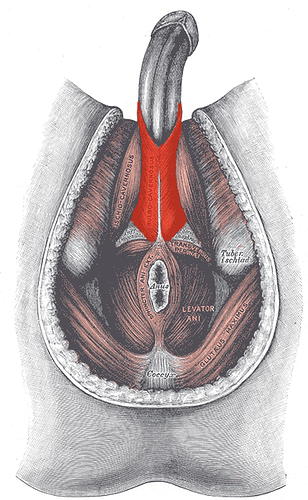 It's EXACTLY the place where in at the root of the penis have the feeling of loose core (like rubber) and hardened tissue.
Sometimes it's solid, then it's soft again. Ejaculation can sometimes improve or worsen it.
I made reverse kegels like a madman last year, it did absolutely nothing. I even pushed a Therawand in the ass … It's going to be crazy.
Well, I would not go so far and say that we are all just depressive with pelvic floor dysfunction. For what has the pelvic floor to do with anhedonia, braininfog, no reaction to alcohol etc?
It can only be a part of the puzzle.
What do you think? Has anyone experienced these symptoms and got them away?
I think if I could get my pelvic floor structure under control, I would be 75% cured.
regards