Where are you referring to?
@Sugarhouse On the PropeciaHelp page for suicide memoriams:
The entry for Matthew Johnson has his name crossed out.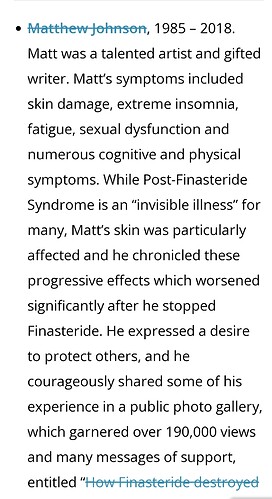 I couldn't fathom why?
I'm not sure either. I'll look into it.
Same here mate. Good news is we are making a lot of progress with research and science in general
Hang tight, your future self will admire you for being resilient
Hang in there my brother. I know exactly how you feel when it comes to getting out of bed and forcing yourself to do productive tasks. Some days just getting up and taking a shower feels like running a marathon. You're a soldier though. We will get our justice one day!
So you hang at your flat and do nothing like me (Im much older and hang alone in my house). Try to get out of the bed every day and that's my life for one year now.
Yes I am very fortunate to be able to live with my parents. I am looking for some simple jobs and have started applying though but you know how it is. Everything is difficult with pfs.
Yes I'll try the same! With this supported living activities and a volunteer job as a biologist who works in a forest uni to show childs the nature, I hope to give my life some aspects again. But It's just a project. Need support from psychological health care Organisation.
Helping kids is always special! Hopefully that can give you some fulfillment.
Can you stop crying all the time? It doesn't help your or anyone's situation.
Please keep it civil.
This topic is also turning into more like a member story for a few members. I understand you're struggling, but please use your member stories for updates about your current state of mind.
@Akosh97 This kind of living is no good for anyone But while continuing the fight you have a chance of getting your life back. With suicide its over or worse youre not successful and end up trapped in a vegetative state. I've been in this for years, I've suffered losses in every aspect of my life. I'm in the very unfortunate group who continue to decline "because I took fin repeatedly' when I discovered pfs around 4 years ago I thought I'd be dead in months I was in very bad shape then and thought there was no room for further worsening but I was wrong. But guess what I'm grateful for the years I've had since because I'm still here. I know kids who aren't on here who are so frail they can't do anything and are bed bound, unable to chew food and they are hanging on for the cure and don't talk about suicide they fight each day. There's always someone worse off. Because of Mitch and Co we have hope. Believe me it will be like a switch when we get it.
@gabriele mate I know you are in a very bad way and are one of the ones who have continued to deteriorate after your 2nd crash.
Please don't end your life man. Don't give these fucks another victory.
I think about ending it every day, it's a symptom of low dopamine. Absolutely unbelievable. Then there's the rest of the shit the neurosteroid disfunction causes
I also appreciate the physical decline is beyond what none pfs people could comprehend its not normal to have thd breakdown of multiple systems in such away.
BUT please hang on your in deep water but there is a few others treading water alongside you. I hate this existence it kills me but I can't do it to myself and I'm grateful for that.
Reach out, message me or someone else. Do you have a safe place a family member who will be there for you. You were going to see a priest a while ago?
FuCK this we can't lose someone else A treatment will come along and you'll be reborn believe that, it will happen the world is a better place with you in it. You still have a purpose a role in this world you will get better 1 day… You're a good man this isn't your destiny.
Hang onto that beautiful window you had. It could return again. It shows that you can recover we just need to find the switch
With suffering of this magnitude behind you, you will be able to achieve anything.in life.
.

Caro Gabriele, tieni duro, forza.
Siamo qui per te. Non gettare la spugna.
Quest'anno anno abbiamo fatto un sacco di passi avanti.
I ricercatori troveranno una cura, credimi.
Un abbraccione, caro.
i am having crashes with normal foods like rice. it's devastating. I would just like to feel good to be able to enjoy a walk with the dog.
Yes i did just recently i felt i was making progress then it all goes down the drain i was close to jumping in a bathtub full of water with a toaster but somehow i resisted i just want my life back
Thank god you are still with us I've had contact from a long term sufferer who tried FMT he stated he has experienced marked improvements I'm not endorsing it but it's something im going to look into further considering my worsening state. Like some of us he became increasingly sensitive to food.
Stay strong brother (10 year+) og
I agree @Exsexgod a slot on BBC World news warning of the dangers would do it. Unless an A listen gets smashes, makes the connection and wants payback I doubt it will appen. More likely documentaries in the future qell after were gone.
I got really depressed one day and almost tried to kill my self than I called my mom said that. And obviously I didn't. She was very supportive and it gave me hope so I started setting health goals. About three days into my new health goals I mentioned something about accutane and she said I "believe you belive that" and it sent me into another depression today I think because I was conflicted and disappointed because I thought we were on the same page. also I felt angry
Than we got into an argument. first she said she thought it was depression and than I showed her all the people who's parents have said the same thing, and i tried to explain how frustrating that can be for me than she said im just going down another rabbit hole. And got angry and stormed off and left. I asked her at the beginning not to to get angry and storm off.
So basically I feel really hopless again . I would like some closure I guess or maybe to talk to someone who at least recognizes that and doesn't try and give me lecture on how I actually have depression.