After seeing a lot of ads on Reddit for Essential Clinic, a "Canadian Online Hair Loss Clinic", I decided to check out what information they provide about the side effects of finasteride.
Needless to say, there was no information about side effects on the main page.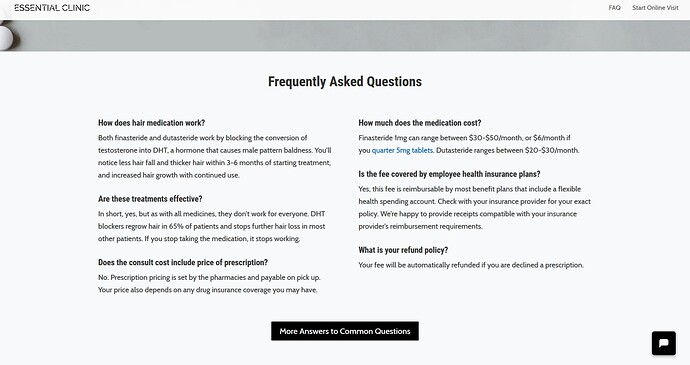 You have to click on More Answers to Common Questions to get to a section with answers to many questions, among them on side effects, which states the following:
Finasteride side effects
Finasteride is generally safe but it can cause side effects. See finasteride's safety information for more information on side effects.
Opening the link above about finasteride's safety information, one sees the following on sexual side effects:
More common
Decreased interest in sexual intercourse
inability to have or keep an erection
loss in sexual ability, desire, drive, or performance
Nothing is mentioned about persistent sexual side effects or persistent non-sexual side effects such as depression or suicidal thoughts.
It turns out this leaflet originates from the Mayo Clinic and obviously has serious discrepancies from the official FDA mandated patient information for finasteride.
Here is the same document on the Mayo Clinic site:
https://www.mayoclinic.org/drugs-supplements/finasteride-oral-route/proper-use/drg-20063819
I emailed Essential Clinic and asked them the following:
"Is Post-Finasteride Syndrome real?"
Their response was:
"Hi there
I assume you are most concerned about any sexual side effects of finasteride
Studies show less than 5% of men taking the drug may experience this side effect. Of those 5%, less than 2% experienced symptoms lasting over 3 months after stopping the drug."
Then I wrote:
"Thanks! Can you please refer me to the place in the drug leaflet where this information is presented?"
Their response was:
"This article summarizes these findings the best: https://www.webmd.com/sexual-conditions/news/20120413/propecia-proscar-new-sexual-dysfunction-warnings"
Opening the document they sent me, from WebMD, among other things one learns the following:
"Propecia, Proscar Sexual Side Effects Rare
There's no definitive proof that either Propecia or Proscar actually causes these problems. But the FDA has received enough reports of these side effects to cause concern.
Even if the drugs do cause these sexual side effects, they've been reported in only a small number of men. For example, in Propecia clinical trials, 3.8% of men taking the drug and 2.1% of men getting an inactive placebo reported sexual problems.
Moreover, the warnings are based on relatively small numbers of reported problems."
I then asked the following:
"Thanks! I am a little confused though because the information about persistent sexual side effects is not in the patient information (leaflet) you provide on your site, whereas it looks like the FDA has required that that information be included in the leaflet."
I did not receive an answer.
How are generic sellers (and hospitals such as the Mayo Clinic) able to circumvent using the official FDA mandated patient information for finasteride? I am quite perplexed. Are they required to use the official leaflet only when they send you the drug but for "marketing purposes" they don't have to use it?